Insurance claims adjusters sit at the fulcrum point of profit and loss for insurance companies, hospitals, and physician practices. Due to the nature of their jobs (particularly medical claims adjusters), they must have a highly diverse skill set and a significant level of knowledge across those skills.
Staying updated on the numerous changes that are constantly taking place within their discipline as well as the broader healthcare continuum requires them to have a love of learning. They must also have a way to absorb that new knowledge in a limited amount of available time.
Podcasts are an ideal way to learn, keep up with the latest news, and be entertained while commuting to work or other multitasking scenario opportunities that happen in their day. The 50 podcasts below cover a range of topics integral and of interest to claims adjusters, from insights and opinions on the latest legislative news impacting the healthcare industry, to tips and guidance for professional claims adjusters, insurance industry news, and more. If you're looking for an easy way to stay on top of the latest insights and happenings, these podcasts are worth a listen.

This podcast focuses on educating new and seasoned claims adjusters via high profile guests and thought leaders in the industry. Listeners gain actionable advice on best practices and issues affecting adjusters across the country.
Three episodes we like from Adjuster Talk Podcast:

The people, issues, and regulations of the Florida insurance market may be the focus with the "The Florida Insurance Roundup," but there is plenty of universal knowledge in the Property & Casualty, Healthcare, Workers' Compensation, and Surplus lines of insurance, as well.
Three episodes we like from The Florida Insurance Roundup from Lisa Miller & Associates: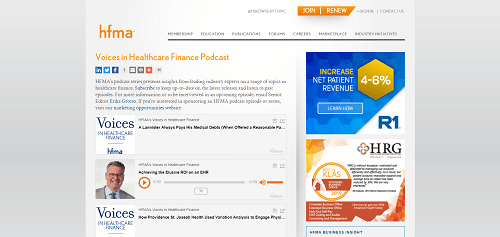 This podcast is sponsored by the Healthcare Financial Management Association (HFMA) and is geared towards professionals working directly or tangentially with healthcare financial management, such as claims managers. The podcast series presents insights from leading industry experts on a range of topics in healthcare finance for those working with hospitals and health systems, health plans, and physician practices, among others. The podcast covers issues like payment processes, analytics, data-driven care, data mining, and much more.
Three episodes we like from Voices in Healthcare Finance Podcast: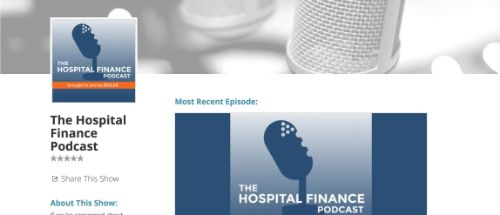 This podcast comes from reimbursement and recovery solutions provider Besler and primarily focuses on Medicare and Medicaid. It also provides a sweeping view of healthcare finance, from the administrative to the regulatory. This includes topics focused on claims and billing, Medicaid payment methodologies, and the regulatory issues surrounding them. Other areas include updated approaches to revenue cycle management, risk adjustment, audits, private insurer pricing changes, dealing with RAC denials, emerging payment models, and changes in healthcare policy.
Three episodes we like from The Besler Hospital Finance Podcast:

Relentless Health Value is a podcast for business leaders working for payer/insurance carrier and provider organizations as well as pharmaceutical, medical device, patient advocacy, and other health care organizations. The podcast brings together a panel of expert guests that discuss ways to improve population health while managing costs and enabling accurate revenue intake.
Three episodes we like from Relentless Health Value: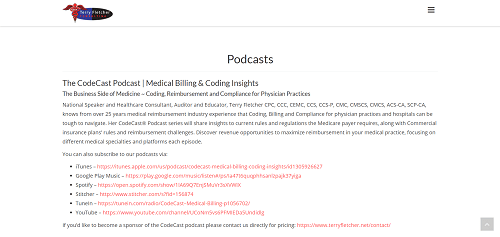 This podcast looks at issues related to Physician Coding, Billing, Reimbursement, Compliance, and Medical Industry Revenue opportunities. It's hosted by 30-year coding and billing veteran consultant Terry Fletcher, who delivers over 100 specialty coding seminars, teleconferences, and webinars every year.
Three episodes we like from CodeCast Podcast: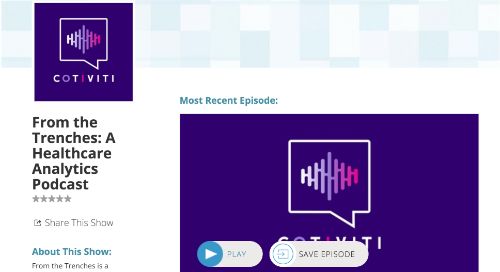 From the Trenches is a healthcare analytics podcast from leading solutions and analytics company Cotiviti. The show explores the latest trends in healthcare quality and performance analytics, risk adjustment coding validation, clinical claims validation, payment integrity, and data management.
Three episodes we like from From the Trenches:

This is a new podcast from the Centers for Medicare and Medicaid Services (CMS) that covers CMS-related policies, updates, and innovations. The emphasis is on billing and payment issues surrounding a broad number of platforms across the healthcare continuum. Two episodes have been released at the time of this writing, with more to come.
Two episodes we like from Beyond the Policy: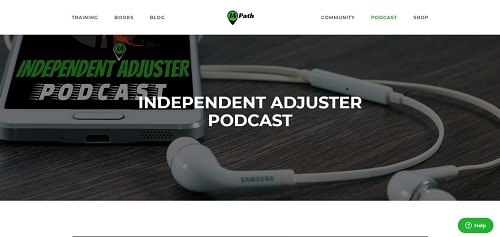 The IA Path's Independent Adjuster Podcast offers useful tips and guidance for independent adjusters and those aspiring to embark on the independent adjuster career path. Founded in October 2016, the Independent Adjuster Podcast provides education and encouragement for auto damage and auto catastrophic adjusters.
Three episodes we like from Independent Adjuster Podcast:

While this podcast covers the broad topic of healthcare policy, medical claims examiners can benefit from its updated information on policies that affect their jobs working with physician practices and hospitals such as the Affordable Care Act (ACA) and CMS, policy changes, private sector healthcare reimbursement, and more. This podcast features experts from leading healthcare organizations, healthcare system leaders, and regulatory/policy experts.
Three episodes we like from The Healthcare Policy Podcast:

While this podcast is generally geared towards medical group practice executives and administrators, medical claims examiners and billing supervisors that fall into the executive classification within hospitals and group practices can also gain valuable insights. The podcast covers topics of interest such as dealing with the emergence of telehealth reimbursement, audits, risk management, revenue cycle management, and much more.
Three episodes we like from MGMA Insights:
Insider: Tim Smith on Physician Compensation Valuations and Data Mythbusting
Insider: Frank Cohen on Evidence-based Thinking
Insider: Shelly Waggoner on The New Workforce Employment Culture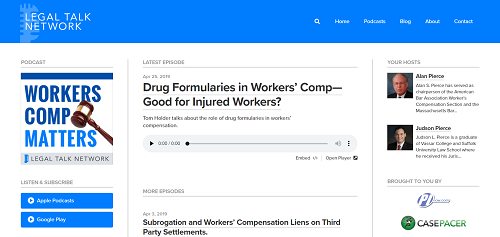 This workers' compensation podcast is hosted by Alan S. Pierce, a nationally recognized trial attorney and author. Episodes cover all aspects of workers' compensation from a legal perspective.
Three episodes we like from Workers' Compensation Matters: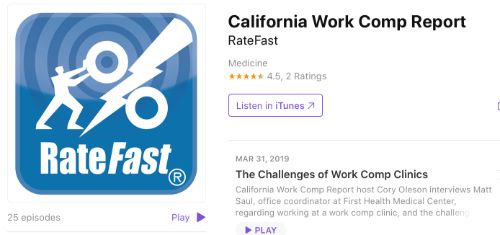 The California Work Comp Report is aimed at California Workers' Compensation Professionals as well as injured workers. The podcast offers a series of interviews with professional expert Dr. John Alchemy, covering all aspects of Workers' Compensation Claims in California as well as current events and California workers' comp news.
Three episodes we like from California Work Comp Report:

"Accidentally" is a monthly podcast offered by the International Association of Industrial Accident Boards and Commissions (IAIABC). Listeners will gain insights, ideas, and information on workers' compensation issues. These podcasts discuss industry innovations, ask compelling questions, and a look forward to the future of workers' compensation.
Three episodes we like from Accidentally: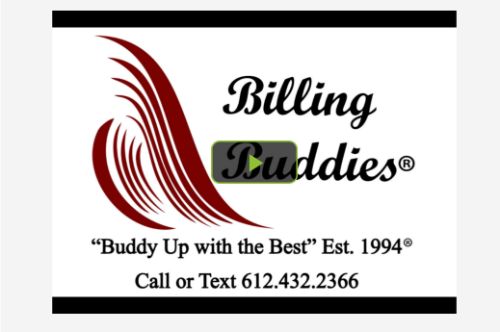 This podcast is aimed at chiropractic practices and how best to navigate the claims management process for Medicare claims. This includes Medicare coding, charting, and billing processes for chiropractic, code management, and more.
Three episodes we like from Billing Buddies:

The RCM360 Drive Time podcast is targeted to physician practice management and claims professionals. Physician practice back-office personnel gain access to insights on revenue cycle management, claims streamlining, billing and collections process efficiency, quality reporting, and more.
Three episodes we like from RCM360 Drive Time:

This podcast from health care cost containment consulting organization The Phia Group, LLC provides a big-picture view of payer/provider cooperation. The podcast series centers on areas like claim negotiation, plan documentation, and other areas that are designed to control costs while protecting plans.
Three episodes we like from Phia Group Empowering Plans: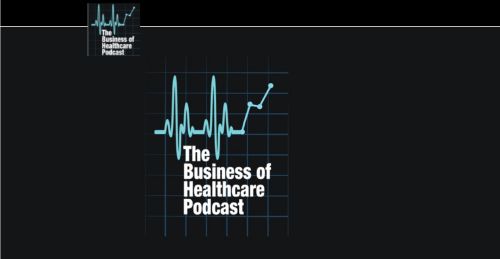 The Business of Healthcare is a twice-monthly podcast from the Center for Healthcare Leadership and Management. The center is based at the Naveen Jindal School of Management at The University of Texas at Dallas. The show, like the Center, brings together business leaders and other forward-thinkers to discuss how best to meet the challenges of a rapidly changing, increasingly complex healthcare industry.
Three episodes we like from The Business of Healthcare Podcast: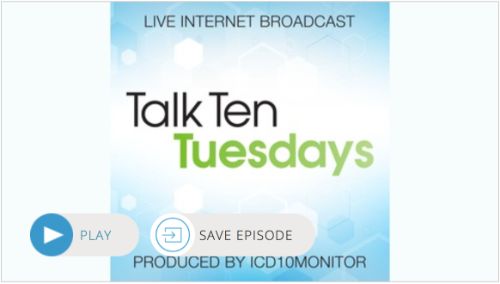 This podcast provides coders and claims adjusters with updated information on ICD-10. The podcast features special guests that discuss current challenges and implementations of ICD-10 as well as information about the upcoming ICD-11.
Three episodes we like from Talk Ten Tuesdays: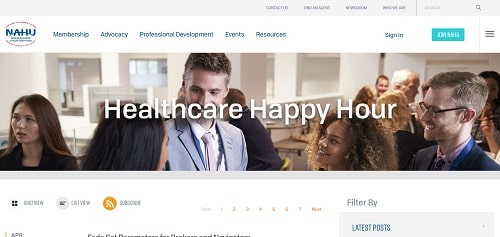 The Healthcare Happy Hour podcast comes from the National Association of Health Underwriters. The episodes recap the week's top issues in healthcare and health insurance politics and policy.
Three episodes we like from Healthcare Happy Hour:

This podcast, sponsored by DHIS Software, brings together some of the most influential healthcare CEOs to discuss how they are building their companies and transforming healthcare. Topics are of interest to all healthcare professionals, including medical claims adjusters and managers, with topics such as disruptive companies in healthcare insurance, alternative payments, billing payment innovations, and much more.
Three episodes we like from Breaking Health Podcast: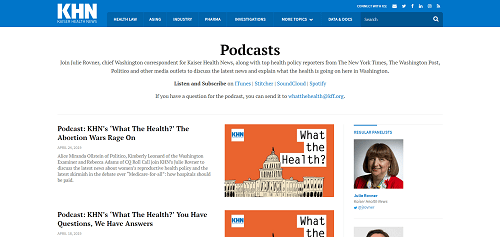 This is an all-encompassing podcast from Kaiser Health News that looks at health insurance from all sides with top health policy reporters from The New York Times, The Washington Post, Politico, and other media outlets. This is a broad legislation-based look at health insurance and policy from a Washington perspective.
Three episodes we like from What the Health?: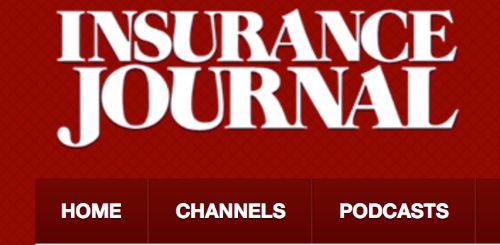 Rather than a single podcast, this is more of a compendium of podcasts offered by the Insurance Journal that covers all aspects of insurance claims. With ongoing podcasts such as On Point, Claims Insights, and many others, listeners can learn about topics ranging from the latest on InsureTech to Medicare secondary payor provisions, workers' comp, and beyond.
Three episodes we like from Insurance Journal Podcasts: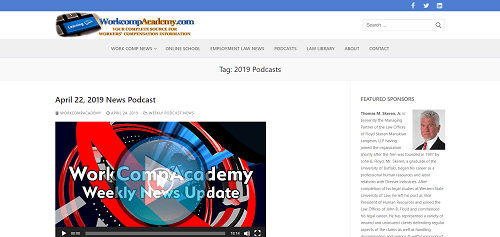 This podcast provides those within the claims industry, specifically those working with workers' comp claims, with news updates of what's happening in the industry from every angle week by week. Listeners can learn about everything from the latest on the outcomes of major claims cases to regulatory, legal, and technology changes that are newsworthy and have the potential to impact their industry.
Three episodes we like from WorkCompAcademy Weekly News Update: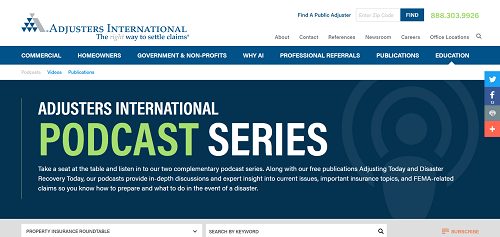 Adjusters International's Podcast Series features conversations with property and casualty insurance experts who discuss the current issues facing first-party claims. Each episode focuses on a particular pressing topic impacting the industry, with real-life examples and first-hand experiences from thought leaders.
Three episodes we like from Adjusters International Podcast Series:

This podcast from revenue cycle and business process management consulting firm Navigant focuses on healthcare leader discussions about issues facing providers, payers, and patients. Topics include reducing revenue loss and denial risk, Coding, audit, and CDI changes, bundled payments, and more.
Three episodes we like from Navigant On Healthcare Podcast Series:

This podcast from managed outsource solutions company Outsource Strategies International provides updated information on the latest medical billing and coding guidelines, revenue cycle management, practice workflow, and reimbursement improvements. Some salient topics for practice claims adjusters include strategies for preventing medical necessity denials and maximizing practice reimbursements.
Three episodes we like from Outsource Strategies International Podcasts: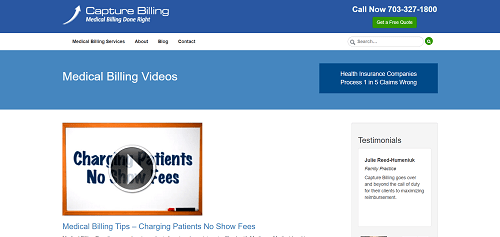 These video podcasts, produced by medical billing company Capture Billing & Consulting, Inc., provide coders and physician practice claims examiners, among others, with a series of medical billing tips. Some of the topics include coding for Medicare Flu Shots, electronic health records (EHRs), and Meaningful Use, to name a few.
Three episodes we like from Capture Billing Medical Billing Videos: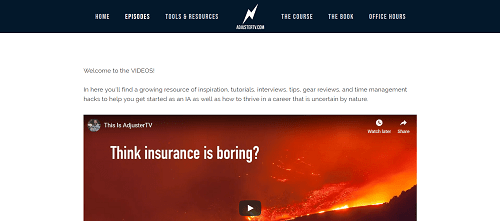 AdjusterTV provides a wealth of information for insurance adjusters, including both new and seasoned claims adjusters. From tutorials to interviews, tips, time management tricks, and essential gear reviews, AdjusterTV is worth a listen for independent adjusters and aspiring professionals who want to advance their careers.
Three episodes we like from AdjusterTV: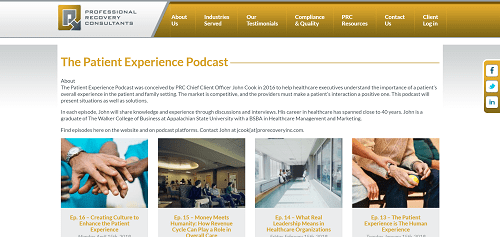 Medical claims adjusters have constant interaction with patients. This requires a highly developed communication approach that strikes an acceptable level of empathy while remaining professional. The Patient Experience Podcast provides insights for back office and front office personnel within healthcare settings on the importance of a patient's overall experience in the patient and family setting. From the role of revenue cycles in overall care to guiding patients through the insurance process, these podcasts have much to offer for everyone that interacts with patients in any way.
Three episodes we like from The Patient Experience Podcast: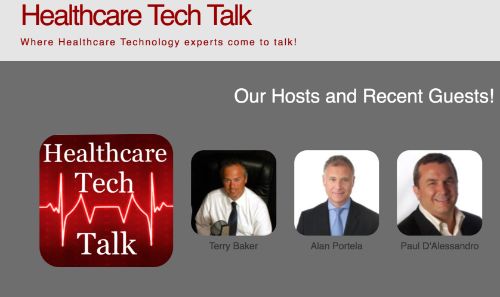 Technology touches every aspect of the front and back office staff within hospitals and physician practice groups. That means claims adjusters as well as coding and billing personnel, are far from immune. The Healthcare Tech Talk podcast covers all aspects of technology in healthcare and discusses how many of these innovations impact claims and all other aspects of healthcare ranging from informatics to information technology and telemedicine.
Three episodes we like from Healthcare Tech Talk: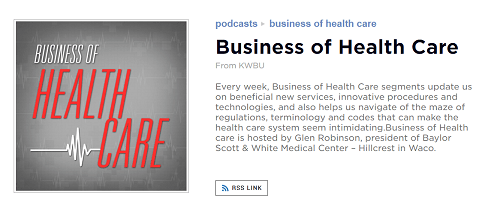 This is an ongoing compendium of podcasts assembled from NPR that covers all aspects of healthcare from treatment and technology to policy administration, legislation, and insurance, among many others. For those that want to stay connected to what is happening across the healthcare continuum, this podcast provides a one-stop approach that will always deliver topics of interest.
Three episodes we like from NPR Business Of Healthcare Podcasts: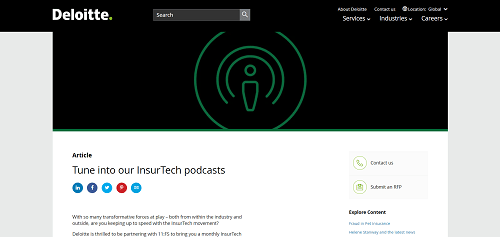 Smart claims management through artificial intelligence and blockchain are just two of the many ways that technology is transforming the insurance industry. Deloitte's InsurTech Podcast is a great way for claims adjusters and managers to learn about what it is in its many forms and the possibilities for how it is being used and will be used in the future throughout the insurance industry.
Three episodes we like from Deloitte InsurTech Podcast: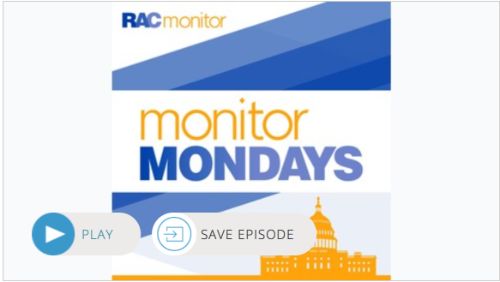 Physician practices, and hospital billing departments to a lesser extent, have the possibility of a Recovery Audit Contractors (RAC) audit when dealing with Medicare claims. This podcast from news and information source RACmonitor provides a wealth of information affecting Medicare claims generally and RAC specifically.
Three episodes we like from RACmonitor Monitor Mondays Podcast:

No matter what type of claims adjuster you are, HIPAA looms large in getting your job done. The Help Me With HIPAA Podcast series delves into everything that anyone who must comply with HIPAA should know. With more than 200 episodes and counting, this podcast is anything but dry as it uses a touch of humor to discuss serious issues based on real-world compliance violations and breaches in the news. This is geared to claims examiners, billing managers, and everyone in healthcare to help them make the right decisions.
Three episodes we like from Help Me With HIPAA:

The National Association of Mutual Insurance Companies' (NAMIC) Insurance Uncovered is the first podcast to deliver news and in-depth interviews specifically designed for the property/casualty insurance market. The podcast launched in March 2018 "uncovering" a wide variety of issues important to NAMIC's mutual members and outside listeners.
Three episodes we like from NAMIC Insurance Uncovered Podcast:

The Change Healthcare podcast from the technology company of the same name focuses on the healthcare payer and provider relationship. Topics range from the use of blockchain in claims and payer HIT analytics to mandatory bundled payment models and in-depth conversations with thought leaders from AHIP.
Three episodes we like from Change Healthcare Podcast: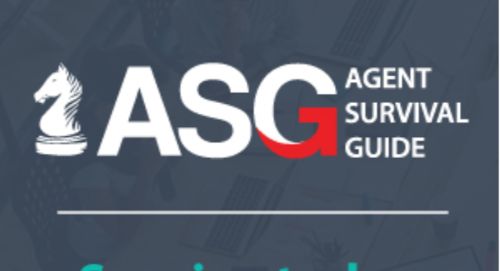 While this podcast is primarily geared to health insurance agents, anyone connected to health insurance, such as medical claims adjusters and managers, can get some new insights on CMS Medicare compliance, along with other issues of interest.
Three episodes we like from Agent Survival Guide Podcast:

Physician practice and hospital medical claims adjusters and managers are far from isolated within the practice, so this podcast delving into improving the culture and lowering the stress of the healthcare environment, has a lot to offer. Produced by the insurance company SVMIC, the podcast covers topics such as best practices for documentation, closing the payer, physician, patient, and hospital gaps via communication, and how practice managers can better support their employees.
Three episodes we like from Your Practice Made Perfect: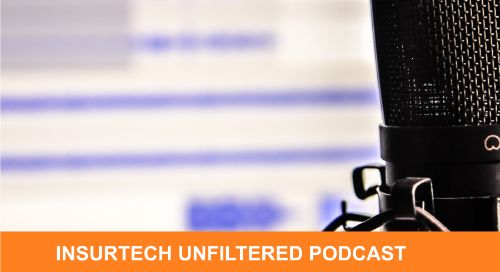 While this podcast series is focused on Blockchain in insurance, it provides some important insights on how it can be applied and where it's innovating within the insurance realm. Episodes focus on legal/regulatory considerations and management, claims and fraud, blockchain's overall impact on the digital insurance agency, and much more.
Three episodes we like from InsureTech Unfiltered Podcast:

"Fixing Healthcare" is a show with a mission to solve the healthcare system's biggest problems within American hospitals. The format has the two hosts conducting an interview with a healthcare thought leader who tackles the problem of how to transform healthcare. Solutions range from AI and other technologies to better management of claims, billing, and collections.
Three episodes we like from Fixing Healthcare Podcast: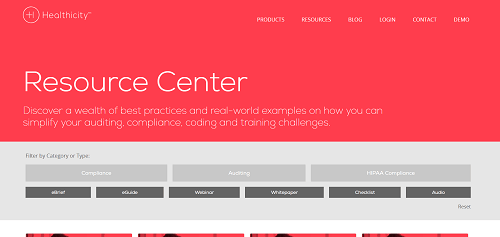 Documentation errors, compliance challenges, and RAC Audits are all contributors to increased claims denials. The Healthicity Podcast discusses solutions to avoid these problems. Handling coding complexities, security, and privacy are just some of the topics discussed by the experts from this auditing, compliance, and analytics solutions provider.
Three episodes we like from Healthicity Compliance, Coding, and Training Podcast: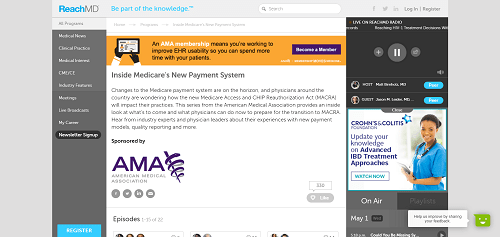 This is one of several podcasts sponsored by the AMA, and it focuses on the recent changes to the Medicare payment system. Episodes break down the new Medicare Access and CHIP Reauthorization Act (MACRA) and what physicians and practices must do to prepare for the transition. Listeners will learn about new payment models, quality reporting, and more.
Three episodes we like from Inside Medicare's New Payment System Podcasts: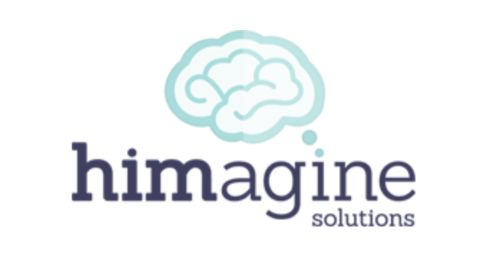 This podcast from the coding solutions provider Himagine Solutions tackles many of the persistent issues that claims adjusters, coders and billing professionals, and other health information management professionals must deal with. Experts in documentation management, coding, and charge capture gain actionable insights. There is also a wealth of topics that are covered by this podcast that can benefit both administrative and clinical healthcare professionals.
Three posts we like from himagine Solutions Podcast: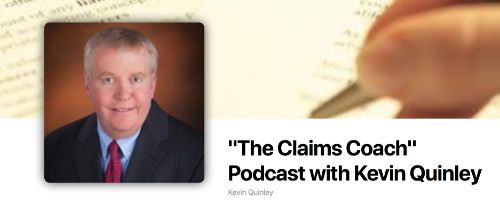 This podcast from insurance claim expert Kevin Quinley delivers tips, tools, and techniques to help claim and risk professionals get even better at managing their claims, time, resources, and careers.
Three episodes we like from The Claims Coach Podcast:

The Digital Health Today podcast is a great way to catch up on innovators and thought leaders who are advancing and implementing new paradigms in healthcare. There's something for everyone looking for fresh rather than well-worn ideas about improving healthcare, from technology and treatment to business and patient relationships.
Three episodes we like from Digital Health Today:
Although this podcast is targeted to property and casualty insurance, health insurance professionals can benefit from many of the episodes. Insights are offered on claims efficiency, innovations for carriers and the billing cycle, and technology transformation, all of which can be applied across healthcare insurance.
Three episodes we like from Property Casualty 360: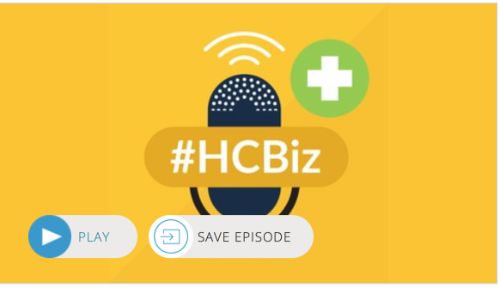 This is another great podcast for any professional that wants to stay updated on the big picture of what is happening across healthcare. Topics can be as diverse as the latest on interoperability and why paper is still used in healthcare.
Three episodes we like from The #HCBiz Show: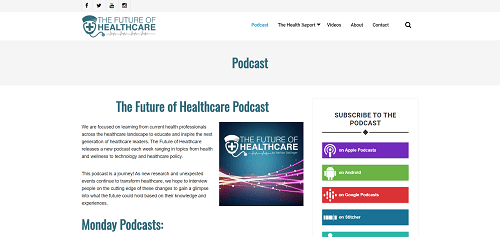 This podcast takes a decidedly forward look geared to an audience of young healthcare professionals. The host, a recent college graduate just entering medical school, interviews health professionals across the industry landscape on everything from technology to policy and much more.
Three episodes we like from The Future of Healthcare: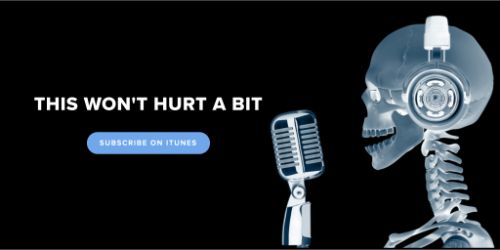 This is a purely entertaining podcast for anyone in the healthcare field that explores amazing, historical, and slightly strange facts in medical care. Listeners are learning about the scientific aspects of everyday human experiences from a humorous perspective, so it's a good one to listen to on those commutes to and from work.
Three episodes we like from This Won't Hurt a Bit: